The McKinney Philosophy
Billy McKinney's presentations on achieving excellence have inspired NBA teams and corporations alike
During Billy McKinney's seven years as a player in the NBA, he wore a medallion inscribed with the words of Ralph Waldo Emerson: "They can conquer who believe they can." This sentiment is central to McKinney's approach to following one's passions in life and embracing the challenges to meet one's goals.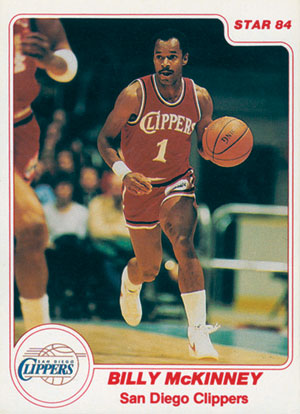 McKinney has been driven to succeed despite much adversity and numerous disappointments throughout his life. Through it all, he has maintained the philosophy that individuals should expect more of themselves than others expect, and that the more one expects of themselves personally, the more they'll achieve. As Billy was once quoted by a newspaper reporter, "Disappointments have always been an inspiration to me. Adversity merely shows us our potential."
One example McKinney uses to illustrate overcoming adversity is a personal story from his days in junior high. His coach told him he would never develop the skills necessary to become a good basketball player. At 17, his peers told him he would never survive or play in the Big 10 Conference. Even after Billy spent four years as a starter on the Northwestern University basketball team, scoring 1,900 points and shattering the scoring records at the school, pro scouts still told him he was too small to make it in the NBA.
Initially, the critics appeared to be right. McKinney didn't make the Phoenix Suns team that drafted him in the sixth round of the 1977 NBA Draft. The Suns cut him before the start of training camp, citing his lack of size as "having a negative effect on his play."
McKinney, however, was determined. He immediately returned to Chicago after training camp and accepted a position as a sales management trainee with W.F. Hall Printing Company. In his spare time, Billy played AAU basketball seven nights a week in order to refine his hoops skills.
After toiling for a year in the basketball sandlots of Chicago, McKinney's efforts were rewarded in 1978 when the Kansas City Kings invited him to their rookie camp. McKinney was granted a month-long leave of absence from his company to further pursue his dream of playing in the NBA.
In Kansas City, McKinney entered an against-all-odds situation. The Kings had selected two highly touted players in the 1978 NBA Draft who played the same position as Billy. Due to a contract holdout by one of the draft picks, McKinney was able to showcase his talents before the Kings' coaches and players. He opened a number of eyes with his play and the Kings were compelled to keep him. As Kansas City Head Coach Cotton Fitzsimmons said at the time, "We started by saying 'We can't keep this guy.' After a couple of weeks we said, 'We'd like to keep this guy.' We then moved on to saying 'We need this guy.'"
Despite the unfavorable odds, McKinney came off the bench to score 23 points in just 24 minutes during his very first NBA game. A Kansas City sportswriter's review of Billy the next morning read, "McKinney's strong points are his motivation and hustle."
Just like his playing days, the description still typifies McKinney's approach to business, to his life's goals and to his understanding of what it takes to achieve in today's world. Much of Billy's motivational speaking focuses on his process of elaborately defining dreams as well as using one's passion to achieve goals.
McKinney beat overwhelming odds to reach the heights most thought were off-limits to him. Billy's motivational presentations and strategy for excellence have inspired NBA franchises, media organizations, corporations and individuals to do the same.