Spotlight on Billy McKinney
Traveling Man
by Nathan R. Kirkham
Reprinted with permission from the Utah Jazz' HomeCourt Magazine, December 1998
Members of the Italian sports press had gotten wind of the fact that a member of the Seattle Sonics front office was in attendance at their local team's game. Wanting to talk to the representative from the NBA, they approached him while he was taking in the action. The first question asked was delivered in Italian. This caught former Jazzman and current Sonics Vice President Billy McKinney off guard since he did not realize the locals knew he spoke Italian. McKinney slipped easily into the foreign language and enjoyed the spirited interview.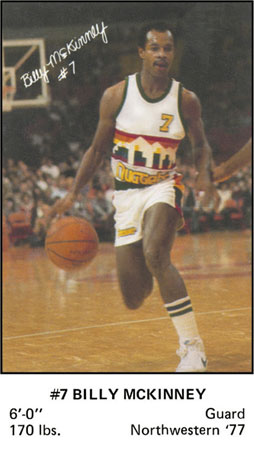 More often than not, the desk of Billy McKinney sits empty. It's not uncommon to find Seattle's VP away from the office during basketball season, since each year McKinney logs more than 100,000 frequent-flyer miles to watch potential players in action. Still, with the NBA lockout putting a damper on the start of the 1998-99 season there is now a dearth of scoutable games. Europe is a more likely locale in which to find him.
A self-proclaimed "journeyman" veteran player of seven seasons from 1978 through 1985, McKinney's journeys now take him worldwide as one of the league's most respected evaluators of talent. At age 42, he has been a part of 10 different teams in twenty years with the NBA—six as a player and four in management.
"Journeyman" is a very distasteful title to most players, invoking images of constant moves and bags having to always stay half packed. McKinney sees it differently. "I always took the perspective that it wasn't that one team didn't want you, but that another team thought you could help them more. I embraced the trades. Each time I was traded it helped my career to progress, so I looked at it as a positive experience."
Such an attitude was tested early in his career. McKinney began his pro career in 1977, having left Northwestern University as the school's all-time career scorer—a title he still holds to this day. Still, the 6-foot guard faced an uphill battle into the NBA. Originally picked by Phoenix in the sixth round of the draft (116th overall), he didn't make the final roster. One year later he earned a tryout with the Kansas City Kings, which led to a backup guard roll. After two years playing as an ideal reservist behind the King's Phil Ford, he was off to Dallas, who picked him up in the 1980 expansion draft.
He never saw action in a Dallas Maverick uniform. Before the season began, McKinney was again traded to the Jazz, who were now preparing their sophomore season in Utah. Coach Tom Nissalke liked McKinney's hard work and quickness on the court, which landed Billy the starting point guard position. He and Darrell Griffith made a good pair in the backcourt early in the season as the Jazz jumped out to a promising 13-12 record. His strengths also carried over into the locker room as well. A constant source of humor, McKinney excelled with his quick-wit and never-ending jokes. "He was great for team morale and camaraderie," tells Nissalke. He pauses to laugh for a moment before continuing. "For the life of me, I can't think of any one particular thing he said—just that his sense of humor would crack me up all the time."
In December of that year, another guard was brought into the team: the now-famous CBA acquisition of Rickey Green. With the overload of talent at the guard position, it was clear a change would have to be made. It would be three weeks later. After starting in 34 of 36 games with the Jazz, Billy McKinney was traded to the Denver Nuggets.
"Did we get equal value or better ourselves? No, in retrospect, probably not," says Nissalke. "We were loaded with guards and needed more size. That combination made a 6-foot player like McKinney expendable."
Denver was good to McKinney. He quickly endeared himself to the Nuggets faithful with his excellent outside shooting and court hustle. By the end of the '80-'81 season, the fans voted McKinney as their favorite player. For three seasons, Billy suited up for the Nuggets before being traded to San Diego for a season, and then finished his playing days with the Chicago Bulls. "I knew I wouldn't have stayed in the league for seven years unless I was a good player," tells McKinney. "I also realized that my value to teams was not only my performance on the court, but what I did as a leader on the team. That's a role that doesn't always have to go to a superstar and was one I enjoyed."
The majority of players find it a difficult transition once their playing days are through. Not so with McKinney, claiming he was aided mentally since he never shouldered the burden of being a recognized basketball player. During his first day of practice as an incoming freshman at Northwestern University, the team equipment manager refused to issue any gear to McKinney, mistaking him as one of the new ball boys. McKinney was forced to hunt down an assistant coach who would vouch for him as a player. Later that year, the team bus driver made the same mistake and instructed him to help load the team's baggage. McKinney smiled and gladly helped out. That night, as he had done throughout the season, Billy McKinney started the game for Northwestern. "I scored 31 points that night," chuckles McKinney. "After the game, the bus driver unnecessarily tried to apologize, saying, 'I had no idea you were a player.' It was the same in the NBA. Nobody recognized me on the street. Few who knew of me ever gave me a snowball's chance in hell to make it as a player in the league since I was too small. I still made a seven-year career out of being one of the best basketball players in the world. I take a lot of pride in that."
The Chicago Bulls realized that McKinney was one of the game's brightest young minds and eagerly ushered him into the front office as an assistant to Jerry Krause, the Bulls general manager. The ambitious McKinney made himself a goal to become a general manager in the league by age 40. In 1988, he jumped to the expansion Minnesota Timberwolves, being named their director of player personnel.
He was only 32 at the time, exceeding his goal by eight years. "I helped to build that original championship team in Chicago with Jerry Krause," McKinney says. "I left before they won the championship because of the great opportunity to build a team in Minnesota. I wanted the challenge."
The Timberwolves were structured so that McKinney and Coach Bill Musselman were equals. This led to constant struggles over players and roster spots since no one person had final say. McKinney endured for four years before taking the same position with the Detroit Pistons in 1992.
It would be the most difficult job of his life.
Detroit was a two-time world championship team, having earned their second title only two years earlier. Now Michael Jordan and the Bulls stood in the Pistons' way of division success, let alone NBA title runs. Detroit was quickly losing their stars to age, and a quick turnaround was not in sight. Into the white-hot, glaring spotlight walked Billy McKinney.
"I was criticized publicly to such a degree that it was tough to even go out and have dinner with my family," says McKinney, who admits straining to be diplomatic on the subject. "The things said publicly not only sabotage you on the job, but in every aspect of your life."
McKinney poured his soul into building a new Pistons team. In 1993, he took the heat for selecting Alan Houston with the 11th pick of the draft, after Houston's slow start. Writers and fans alike were impatient and vocal in their displeasure. In a recent Seattle Times interview he recalled: "I couldn't go out and eat or go out and have that one night (to myself) without people approaching me about the team."
The next year, the Pistons had the second pick of the draft. McKinney wept for joy as NBA commissioner David Stern announced that Dallas had selected Jason Kidd, leaving Grant Hill available for the Pistons. Still the spotlight continued to burn as the Pistons finished the 1994-95 season with a poor 28-54 record. The pundits and naysayers increased their venomous, personal attacks. "Looking back, I never changed the way I approached the job, my commitment of the way I treated people," McKinney states proudly. "I really believe that a person who wasn't as strong would have reacted differently. I'm particularly proud of the way I handled myself professionally under the most difficult circumstances in Detroit."
After what can be called, at best, a tumultuous three-year stint with the Pistons, McKinney and Detroit parted ways.
Since 1995, Billy McKinney has overseen the Seattle Sonics' scouting of college, CBA and European players. After years of being in the top spot as G.M., McKinney is now enjoying the anonymity of being number two. Sonics General Manager Wally Walker now stands as McKinney's boss, but their relationship is one of cohesion and cooperation. McKinney holds the attention of Walker concerning player moves. When Seattle was deliberating over trying to acquire Milwaukee's Vin Baker, word came out that Baker had a problem getting along with coaches. McKinney knew otherwise and backed Baker, saying it would not be a problem. It was all Walker needed to hear, and the Sonics pulled the trigger.
"Wally Walker is the most ethical person I've ever worked with," praises McKinney. "My four years here have been my vision of how you are supposed to work together as a unit. There are a lot of people in the NBA who talk about teamwork, but they really don't understand it. Wally does. It's difficult to work successfully with people unless they share the same values as you—both personally and professionally. When that does happen, you have an outstanding chance to be successful. That is what I've found here in Seattle."
Vice President McKinney could also add "official linguist" to his job title. His language studies began in earnest during his first year with the Sonics after completing a scouting trip to Europe. "I went to Greece, Spain and Italy, and I saw all of these people speaking three or four different languages. It made me feel like a complete idiot," says McKinney. Upon returning to Seattle, McKinney enrolled in a six-level language study during the offseason. He has now completed five of the six. "I'm a little bit ahead of the class, since I'm over there so much, which gives me the chance to speak the language," admits McKinney. After completing Italian, he plans to become fluent in Spanish and French, and later German or Japanese (he hasn't decided which one—maybe both). "It's something I really enjoy learning. It's also very practical since I spend so much time over there (in Europe). It's nice to be able to ask where's a good place to eat, instead of going to McDonald's every day."
McKinney is still being courted by other teams who want him to consider another G.M. position, but right now he's not biting. The Sonics and McKinney seem to have an excellent working relationship, and Billy just wants to keep it that way. "The experiences that I've had in Chicago, Minnesota and Detroit have helped me tremendously to understand that the most important aspect of taking a job is taking the right job with the right circumstances and the right people," McKinney says. "In retrospect I probably made some bad decisions in selecting where to go because I felt the need to overcome this stigma of being too small as a player, or having to prove myself worthy of my front office title. I've been more happy the past few years than ever before. I feel I have my priorities straight."
As long as the NBA lockout continues, McKinney will continue to be forced into looking outside the United States for his scouting opportunities. No problem—it just means additional practical application opportunities to bone up on his Italian.
A vivere la dolce vita! Long live the sweet life!